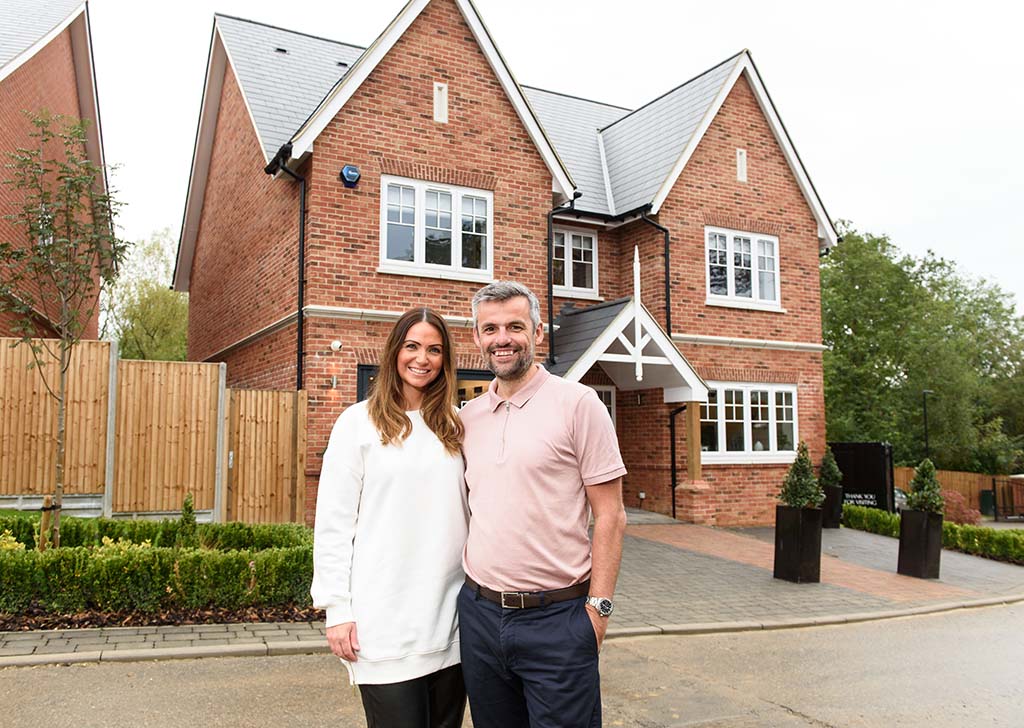 With almost half of the UK's workforce returning to their daily commute every day, finding a home and location that honours the ideal work-life balance is coming back into focus for many homebuyers. With connectivity being as much a priority as the property itself, buyers are snapping up homes where they can reap the rewards of countryside living coupled with hassle-free transport links into London.  For Scott (44) and Camilla (41), by purchasing their dream house at Chase New Homes' St Edwards Gate development in the attractive Hertfordshire village of Goff's Oak, they have successfully paired the convenience of having a 40-minute commute into the capital with a beautiful new family home.
Wanting to take advantage of the governments stamp duty holiday and take their next step up the property ladder, Scott and Camilla were eager to upsize from their two-bedroom semi-detached property and purchase one of the executive four-bedroom homes at St. Edward's Gate off-plan. With their old accommodation no longer catering to their needs, they made the decision to relocate to an area they both greatly admired. Scott explains: "We used to cycle to Cuffley Hill from our old property. There are lots of trails and wooded areas that we really liked, and always spoke about wanting to live here."
The area in question is the beautiful Goff's Oak in Hertfordshire. Surrounded by natural beauty in a wonderfully picturesque woodland area, St. Edwards Gate gave the couple an idyllic location with ideal transport links. Camilla comments: "The village is somewhere we have always wanted to live in. It is a well-known and sought-after area, and with us both working in London the transport links are great, we are also close to the M25." Scott agrees: "We both often need to commute into London for work, Cuffley train station is only a ten-minute walk away and has a main line into London which takes about 45 minutes – so super quick."
With their new home offering the symmetry of both country and city living – the opportunity of buying off-plan was a huge appeal. Camilla explains: "Scott doesn't do DIY! The fact that we could move straight into a lovely and freshly decorated home and enjoy a beautiful kitchen that comes with new appliances, meant we didn't have to worry about doing any work ourselves. We are both busy professionals and use our spare time to exercise and play sports. We both have busy jobs so our days off are important to us. The fact that we didn't have to worry about fixing anything in the property was a great weight off our mind."
Scott, and Camilla meticulously looked at many properties, carefully choosing somewhere that would strike the perfect balance between their work commitments and their active lifestyles. Scott, A self-employed Project Manager spoke of their purchase process: "We prepared a list of priorities we wanted our new home to have. In terms of size, location and price, we were determined to find somewhere that ticked all the boxes. Funnily enough, St Edwards Gate was one of the first properties we saw and we both liked it straight away. We were keen to be part of a small gated community, and having prior knowledge of the area – we knew it was going to be the right home for us."
After an extensive search, it seemed that the stars aligned for the couple. With an ideal setting, strong connectivity links and opportunities to enjoy the great outdoors, the home itself played a huge part in making their decision. Camilla, a technician, speaks of the aesthetic appeal of their beautiful new home. "We were drawn to the style of the property. It is a red brick, London townhouse with four floors. It reminded us of a Victorian house, and as you go downstairs into the kitchen, there is a window looking out onto a woodland. It is both modern and traditional, and still feels cosy and spacious."
Speaking about their experience in dealing with the team at Chase New Homes Scott comments: "Chase New Homes and the sales team we dealt with were very good. We built up a great relationship with the Sales Manager, he was really helpful and accommodating every step of the way. Camilla echoes Scott's praise, adding: "We were one of the first purchasers to buy off-plan at the development which meant the team were able to help us change certain aspects of the home to better suit our requirements. We were delighted to be able to personalise certain features and made the house feel like our home straight away!"
Please call our New Homes Showcase to book an appointment!
Call – 020 8441 9555 | Or contact our New Homes Team
See our customer reviews